City Wide Open Studios New Haven Ct.
City Wide Open Studios, Artspace New Haven Ct. Alternative Space on the Yale West Campus, October 27 & 28 2018
410 Campus Drive
Orange Ct.

The installation I am presenting at CWOS is a concept that presents social commentary on the horrendous events that have been going on at our border separating children from their parents.
---
Bethel Public Library, Bethel Ct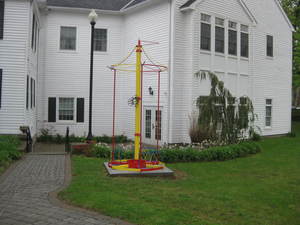 Collection of The Bethel Ct Library, exhibition ongoing
---
Bartlett Arboretum, Stamford Ct.
PT's World on exhibit (Arboretum Collection)
The Bartlett Arboretum Stamford
151 Brookdale Rd
Stamford Ct. 06903
---
Silvermine Art Center
The Three Tenors & Gingers Dream on exhibit at The Silvermine Art Center Sculpture Walk, New Canaan, Ct
www.silvermineart.org